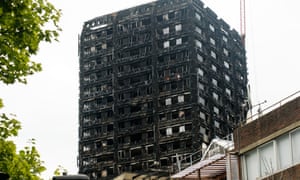 Fire services in England have lost more than a quarter of their specialist fire safety staff since 2011, a Guardian investigation has found.
Fire safety officers carry out inspections of high-risk buildings to ensure they comply with safety legislation and take action against landlords where buildings are found to be unsafe.
Figures released to the Guardian under the Freedom of Information Act showed the number of specialist staff in 26 fire services had fallen from 924 to 680, a loss of 244 officers between 2011 and 2017.
Between 2011 and 2016, the government reduced its funding for fire services by between 26% and 39%, according to the National Audit Office, which in turn resulted in a 17% average real-terms reduction in spending power.
Warren Spencer, a fire safety lawyer, said the figures showed a "clear culture of complacency" about fire safety.
"The government has tended to take the view that fewer people are dying in fires, fires occur less frequently, and therefore there's no need to invest in fire prevention. So there's been a total brain drain in fire safety knowledge and many experienced specialist officers have left the force," he said.
"But fire safety officers have been saying to me for years that one day, there would be a big fire in a multiple occupancy building, which would make everyone sit up and take notice of the lack of fire safety provision. Tragically, that's what happened at Grenfell Tower."
David Sibert, a national fire safety adviser at the Fire Brigades Union (FBU), said the figures demonstrated the need for an urgent review of fire safety enforcement.
"The government's current approach to fire safety is business-friendly and very soft-touch. We are saying that this is wrong, and that we should be enforcing safety legislation on behalf of the people who live and work in these buildings, not on behalf of those who are making money out of them," said Sibert.
Fire services in Gloucestershire, Cumbria, Avon, County Durham and Darlington are among the worst affected; staffing has been cut by more than half.
The figures come after the government's announcement of an independent review of building regulations and fire safety after the Grenfell Tower disaster in June, where police believe at least 80 people died as fire engulfed the block of flats.
"Grenfell showed us that our system of building and fire safety regulation is broken. And fixing this system requires more money, more officers and more inspections to catch out landlords who are trying to cut corners," Sibert said.
The fall in the staffing in fire services has been mirrored by a decrease in the number of inspections and enforcement notices, which are issued when a building violates safety regulations.
In 2010-11, there were 84,575 audits in England, compared with 63,201 in 2015-2016 – also a drop of 25%.
The number of enforcement notices fell at a much faster rate, with fire services reporting a 45% reduction over the same period, according to Home Office figures.
The Surrey branch of the FBU last month passed a motion of no confidence in the county council over funding cuts to the fire service. The motion highlighted the 66% reduction in fire safety audits carried out by Surrey since 2010 as evidence that the cuts were "putting lives at risk".
Figures released to the Guardian show Surrey has lost 17% of its fire safety staff over the same period.
Richard Jones, an FBU representative for the south-east region, said: "We brought the motion to the council because the service has been cut to the bone – way beyond the bone, in fact, it's losing its limbs. We have to jump through so many hoops to enforce safety regulations, and it's incredibly expensive to take someone to task. Certainly, there are a lot of violations which will simply never be tackled because we just don't have the funds to do it.
"If we find buildings that have major problems we will pursue landlords, all the way to court if necessary. But with the smaller things, we find it's just not economical, and that's a real problem."
A Surrey fire and rescue service spokesman said: "The safety of Surrey residents is paramount in all decisions that are made and, despite the huge financial pressures we face due to the rising need for services such as social care for children and adults and school places, we're confident we'll still be able to provide an effective and efficient fire and rescue service to keep them safe."
The Guardian sent FoI requests to all 45 fire and rescue services in England and received data from 31 fire services on the capacity of its fire safety department.
Of those which reported data back to 2011, 13 fire services lost more than a third of their staff and a further six lost more than 40%. Only two fire services who responded increased their number of fire safety officers.
A further four services, which reported figures as far back as 2013, lost a fifth of their fire safety officers, a reduction of 82 to 66 officers in the past four years.
The cuts were also roundly criticised by Unison. "Fire safety staff do vital work protecting people from harm, and cuts undermine this important public service," said the union's assistant general secretary, Christina McAnea. "Reducing staff numbers puts intolerable pressure on those employees who remain and could put the public at risk."