What is a fire door inspection?
Fire safety laws have changed
The Fire Safety Act 2021 has been implemented recently, this legislation has been produced partly as a response to the Grenfell Tower tragedy and also to build onto the previous Regulatory Reform (Fire Safety) Order 2005. This new legislation says that fire door inspections in multi occupied residential buildings above 11 m in height need to be checked every 6 months, though it is good practice to check them more frequently if they are subject to heavy use. In addition the findings of the Grenfell Inquiry recommended:
"that the owner and manager of every residential building containing separate dwellings carry out an urgent inspection of all fire doors to ensure compliance with current legislative standards and that regular (no less than every three months) checks be carried out to ensure all fire doors are fitted with an effective self-closing device which is in working order" – Recommendations 33.29 (a) and (b)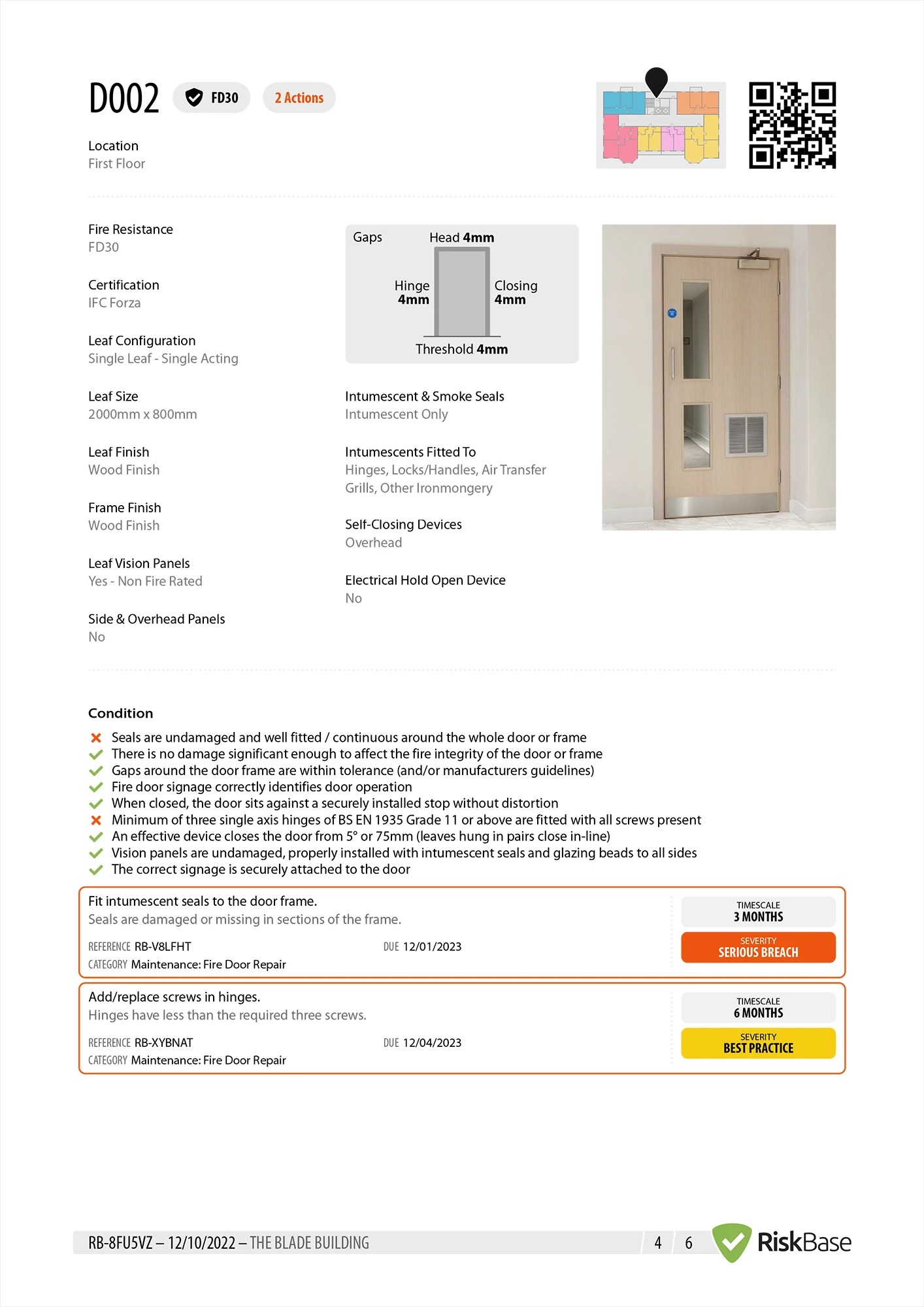 Our fire door inspections are a comprehensive survey of your fire doors. Our expert team of fire risk assessors are all trained fire door inspectors and are trained to offer the best advice and talk you through their findings. If you think your doors may not meet the standards or have been told otherwise then contact us for a totally independent, pragmatic and unbiased opinion. Our expert opinions have been proven to keep our clients safe and save them money on unnecessary and often costly replacement and upgrade programmes.
Why do I need a detailed fire inspection?
A fire door is a fire door, right?
Actually, fire doors come with varying levels of certification and have different requirements depending on where they are located and the use of the building. For example, a fire door rated as FD30 can compartmentalise the fire for 30 minutes, this slows the spread of the fire through the building, which allows time to safely evacuate people as well as time for the fire service to arrive. Where there are elderly or infirm people, a 60-minute fire door FD60 can be installed to give extra time to evacuate safely. It is imperative that you have the correct fire doors, and that they are fitted correctly, with the correct fixtures, such as intumescent strips. A brief fire survey may tell you that you are not compliant, but unless it details the changes that you need to make, it is neither a helpful or informative document. Our detailed inspections look at each and every door set, identifying the location by building plan and even adding QR codes to the door so that every location can easily be identified and accurately visited time and again. Our reports give you an accurate overview of the door type, condition, ironmongery, etc. with issues identified and actions determined. We create a list of actions with priorities and timeframes allowing you to make an accurate costing for bringing your fire doors up to standard, and a reliable report that allows you to assign works to the appropriate contractors.
Why use Source Fire for your fire safety needs?
We are independent, highly skilled and experienced experts in fire safety. We can carry out full fire risk assessments for you where we can look at the overall fire safety in your business, including your passive fire protection system, through to your fire safety signage, as well as a fire door inspection of not just the door leaf, but the door frame, furniture and quality of installation. We are here to ensure life safety and fire safety is our business. All our assessors are fully trained, accredited, qualified and experienced. We will  work with you to ensure that your buildings and the people that use them are safe and protected.
How do I book a fire door inspection?
Don't leave fire safety to chance, book your fire door inspection and fire risk assessment using our online contact form. If you have any questions give us a call or email us for independent, unbiased, pragmatic advice. The consequences of fires can be calamitous, indeed 80% of businesses never resume trading after a fire. Carrying out a detailed fire risk assessment and following the advice within it will help you to mitigate the effects of a fire should one break out. Passive fire protection, which is designed to slow the spread of fire, is a vital part of fire safety. We look forward to your call and discussing your Fire safety needs, please email info@source-fire.com or call 0203 478 7347 – we look forward to supporting you.