Cladding on six apartment buildings at a privately-owned site in Cardiff Bay has failed fire safety tests according to BBC.co.uk.
Extra precautions are being taken at Prospect Place, following the tests introduced after the Grenfell Tower disaster.
Warwick Estates, which manages the site, said residents were being kept "fully up to date".
It is the first private development in Wales known to have not passed the tests.
The Prospect Place development, which was built by Bellway Homes but halted for a period of time after the credit crunch in 2008, is made up of 15 blocks of apartments.
According to Cardiff council, cladding made from aluminium composite material (ACM) failed tests put in place by the UK government.
The tests were established after it was found that a type of ACM was used on cladding at Grenfell Tower.
Warwick Estates' associate director Sarah Williams said affected blocks were Alderney House, Caldey Island House, Breakwater House, Dovercourt House and Eddystone House.
The high-rise Pendeen House is also affected, she told BBC Wales.
'Interim measures'
An assessment of the overall cladding system, which has been conducted with other high-rise blocks, has yet to be completed according to Warwick Estates.
It is this test that Newport City Homes' three tower blocks did not pass.
Asked if the cladding will be replaced, she said no decision could be made until the full testing had been completed and results were known.
Residents have been given a number of recommendations and warnings in a letter informing them of the failed assessments.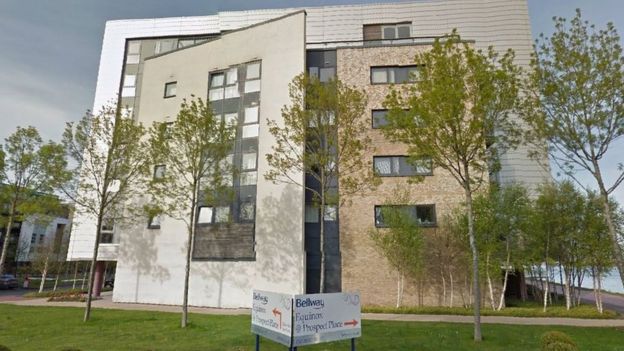 South Wales Fire and Rescue Service recommended that nine car bays located underneath clad areas were put out of use, the letter said.
Combustibles from communal areas have been removed, while bollards have been lowered to allow the fire brigade easy access to buildings on the waterfront.
Residents have been told the use of barbecues, fire pits or similar equipment will no longer be allowed, and that tumble dryers should not be run overnight.
"Whilst writing, we wish to reiterate that new build leasehold homes operate a stay put policy if a fire occurs," the letter said.
But it added: "If you feel threatened with immediate danger from smoke then common sense should prevail and you must leave the area via the nearest escape route."
Ms Williams said Warwick Estates was "working closely with the developer of Prospect Place and (South Wales) fire and rescue service to implement all interim measures possible for the safety of those residing within the buildings following the results of the cladding tests".
"All residents/owners have been kept fully up to date and will continue to do so as matters progress," she said.
A Cardiff council spokesman said it was "aware and concerned" about the failed tests.
And a spokeswoman for the developer, Bellway Homes, said it was "aware of the tests on the cladding at Prospect Place".
She said Bellway was supporting Warwick Estates "in meeting government and fire brigade requirements to ensure the safety of residents", adding that safety measures "have been put in place in the short term" while assessments are completed on what long-term action should be taken.
The Welsh Government urged private landlords of high-rise buildings to take up the offer of tests after the Grenfell Tower disaster.
A spokeswoman said: "We continue to work closely with local government to identify the responsible owners and managing agents of private sector high rise residential property in Wales."